Study Recommends Community Ag Facility In Rockingham Or Augusta
July 6, 2021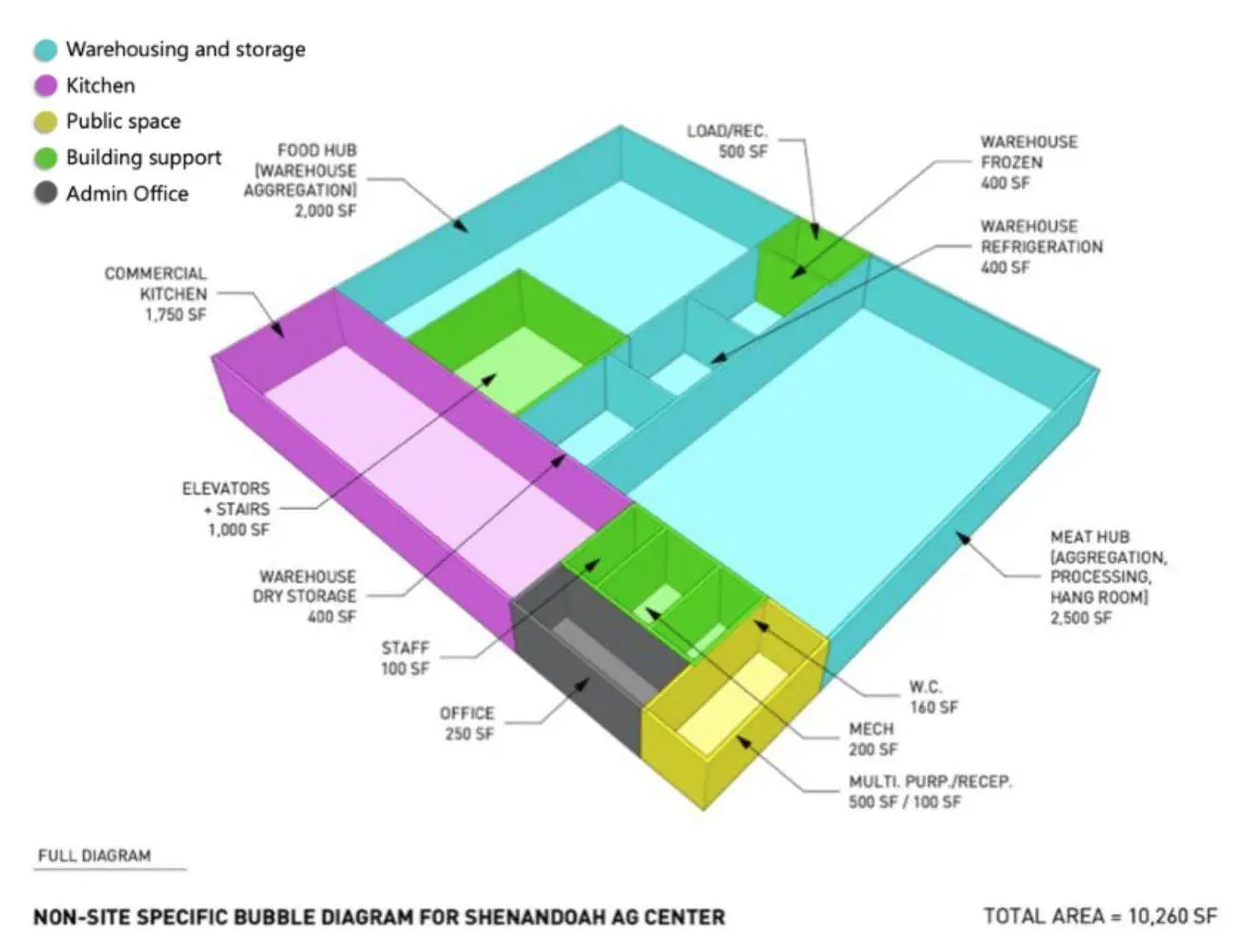 Central Shenandoah Planning District Commission staff are working on a new agricultural center planned for Rockingham or Augusta County based on the results of a recently completed study.
"The findings did recommend that a specialty meat and produce hub in our region would be feasible and beneficial to our small and midsize farmers," said Rachel Salatin of the CSPDC.
The center plans call for meat and produce aggregation space, kitchen rentals for long- and short-term hourly rentals, contract manufacturing, meat processing and value-added services, storage, event space, support programs and services such as business development and online sales.
"The mission of the facility will be to build resiliency and sustain small, local farms and food businesses in the Shenandoah Valley," the report said.
The study was conducted by Chicago-based New Venture Advisors with funding from a U.S. Department of Agriculture Local Food Promotion Program grant and a grant from GO Virginia.
Between July and October, interviews for the report were conducted with farmers and local merchants who sell locally produced food products.
"Agriculture, food and access to food are vital to any community, and in the Shenandoah Valley particularly, agriculture plays such an important part in the ecosystem," Rebekah Castle, economic development director for Augusta County, said in a Wednesday email. "This would be another component to strengthen that support system."
Rockingham County Economic Development Director Casey Armstrong said the county has been "very conscious" that the facility would not compete with existing family operations or agriculture businesses.
"It was a niche that wasn't currently filled by any of the local farmers market or produce auctions or things like that," he said.
And the proposed center provides a "roadmap" for potential similar projects in the future to support local economic development by helping farmers build on and market their products, according to Armstrong.
"This element could be a kind of a connection point for the restaurant industry, for instance, to find another source of high-quality meats and locally sourced produce, locally sourced anything, and I hope that enhances the food and beverage industry," he said.
Local farmers are at a disadvantage in the economies of scale compared to ranchers in the West and commodity farmers in the Corn Belt, but they can create an advantage by focusing on high-value specialty crops, according to the study.
There were 2,026 farm operations in Rockingham during 2017, a 6% increase from 1,902 operations in 2012, according to the most recent USDA farm census released in April 2019.
Most of those new operations came in sizes below 180 acres, to reach a total of 1,686, up from 1,538 in 2012.
However, the number of farms in Rockingham between 180 acres and 1,000 acres dropped slightly from 364 in 2012 to 340 in 2017. This was even including an 40% increase in farms in the 500- to 999-acre range.
Findings in the report described how local farmers are independent but also have an interest in sharing resources, such as a USDA-inspected, shared-use commercial kitchen, and marketing, sales, distribution and regulatory services for their products.
Research from the study also said there is strong demand for local products in relatively close urban areas across the state, and the threat to family farms presented by the dearth of meat slaughter and processing infrastructure.
The center is "an opportunity for producers to access more together," Castle said.
This summer, the CSPD plans to release a request for information with more details about the project and gauge interest from potential operators and farmers, according to Salatin.
"Next steps will involve an operator search," she said.
Once an operator is brought on board, a final business plan will be drawn up and a site chosen. The location of the facility remains undecided, Salatin said.
Potential sites includes the former Suter's Handcrafted Furniture Showroom at 2610 S. Main St. in Harrisonburg, on Research Drive in Rockingham County, at 4913 Crow Drive in Mount Crawford, 2465 Lee Highway in Mount Sidney, 49 Wilshire Court in Fishersville and 10 Morris Mill Road in Staunton, according to the study.
The cost of the project is anticipated to total $5.1 million including land purchase, construction, equipment and working capital. Funding sources could be from public and private grants, loans and equity.
A timeline for the project is still under development, though the center is expected to pay for itself within five years, according to the study.
"The report says a food hub in our region would be wonderful, successful, a benefit to our farmers and agribusiness entrepreneurs and value-added customer base, but there's a lot that needs to happen before implementation," Salatin said.
Article orginally appeared in the Daily News Record, written by Ian Munro; 574-6278, imunro@dnronline.com.